Ferri – A broken carousel
An artist from Fukuoka, Japan. She is active around Tokyo. She performs solo with laptop, keyboards and vocal. She spins music which evokes nostalgia and fuses a classic sound using an old piano she's had since childhood.
A solid, expansive synthesizer sound coupled with her low tone to falsetto vocal makes a hypnotic, electronic, ambient sound. Beautiful melodies, acoustic instruments, Post-classical, Trip-hop beats, aggressive Dubstep, Electronic, Ambient. Daichi Mori from Aureole guests.
This movie requires Flash Player 9
A broken carousel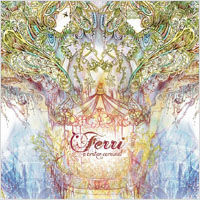 artist: Ferri
title: A broken carousel
label: kilk records
catalog no.: KLK-2008
release date: 2011.07.20
Illustration:Ami
| | |
| --- | --- |
| 1. Kono Saki Ni Aru Mono Featuring Uka & Saiko | |
| 2. Fading Sigh | |
| 3. Slow Circulation | |
| 4. Tomorrow Comes After Today | |
| 5. Zoetrope Featuring Cellz Cellar | |
| 6. Porte | |
| 7. Alegria | |
| 8. A Trapped Moment of Imitations | |
| 9. Requiem | |
| 10. Vindur | |
| 11. Light | |
| Bonus Track | |
| 12. Secret Longing (Serph remix) | |
| 13. Labyrinthine Split Second (Matryoshka remix) | |